My weekend was pretty uneventful. I had to work on Saturday (which is still fun because I love what I do!). I had two senior sessions. Both girls and they were such beautiful girls and so fun, it made my day pretty easy.
After working I took the kids and we made a Wal Mart run to finish getting school supplies and gym shoes, plus a few goodies for momma! =] I found some things I wanted to sew and try my hand at for fund raisers and gifts. So I was in need of some new material and found some awesome new little bundles of fat quarters in the sewing department. We're lucky that our Waldo World is one of the last few stores that the material and sewing notions haven't been yanked from the shelves. I'm convinced that's only because we live in the middle of nowhere and there's no other options to find the things we need. Okay, so they have some material, but nothing like making a trip to JoAnn's or Hancocks. Ho hum...the perils of living in rural America.
I've got lots of fun ideas in mind for these cute patterns. Some are hid from the picture! ;) hmmm... wonder if I planned it that way? lol
So here's the first attempt at a pattern I found for burpies on
Susan Weinroth's blog
. She links to the
Fiskars website
where she posted instructions and they are SUPER uber easy! Plus they were actually a lot of fun to make. I'm an instant gratification kinda' girl so these were a cinch to put out and very fast. I was so proud! lol =] I'm going to start making these and using them for fundraisers for our next mission trip. A portion of the proceeds will go to our mission travel fund, and a portion will go to the
Life Connection Mission
directly to help fund various needs for the people in Montrious, Haiti. I'm so excited! Something I can do in my spare time (like I've got much of it), to help us save money and donate to the mission.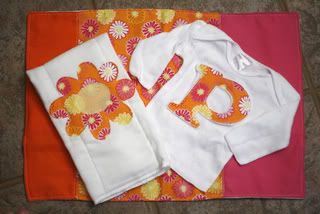 So, here's the second thing I started. More burpies, but a matching set with one just using applique and an aplique newborn t-shirt for baby to match. How stinkin' cute is that?! I had a certain little baby girl in mind when I made these! I wonder if her momma will see this picture before she sees the shower gift. ;)
I cut the strips to make the burpies with just my quilting cutting mat and ruler with a rotary cutter, and the applique patterns (the P and the flower) I cut using my Cricut machine! Love that sucker! So, these were really quick!
I can't wait till the baby shower. :) Besides, when everyone sees how stinkin' cute they are, well.... I'll just have to offer up my services to make and sell them to raise funds for the mission! I got the idea for some of these great things from Pitter Patter Art (which is another bloggy friend you can find her link in my sidebar) that is designing and doing lots of cool stuff for her mission and adoption programs. Awesome goodness!
Got my worship goin' on at church this morning and shared my 'dreams' with Pastor Doug. Our congregation was challenged to write down our dreams for our lives and our dreams for our church. What direction we feel that God is leading us to. Liberating in a way, scarey in another. Voicing those dreams outloud and wondering who will think you're really nuts for coming up with them, and wondering if it just crushes them and douses them out like a campfire because they've been voiced. My Big Fat Hairy Audacious Dream for myself (and our family ultimately) is adoption. It may be only a dream that I feel led to and I wonder if it's really what God has planned for us on some days (today was one of those days), and other days I know it's where He's leading us. I just have to be patient and wait for His divine timing. I pray for His will in our lives daily and pray for our family to have hearts that are changed and seek to adopt and care for His children as He commands us to do. So, after church this morning I took my Sunday afternoon nap.... aaaahhhh. Nothing better than a nice nap in the cool afternoon breeze, stretched out on my bed in front of that big window with fresh air wrapping me up, dreaming those dreams.
I pray today for peace for our family, as well as my friends and other families (and anyone else who's reading!) that you will find the guidance God has for your lives. He's calling you, if you just take the time to listen. He's right there, waiting to walk with you, inspire you and make you whole just when you need it.
For I know the plans I have for you declares the Lord.
Plans to prosper you and not to harm you, plans to give you hope and a future.
Jeremiah 11:29
Hope you all had a terrific weekend and an awesome Sunday! I'm off to bed (I knew I shouldn't have had that nap earlier.....). ♥ Blessings,