So here it is! My book review of this awesome study I received!!! I'm loving Blogging for Books! If you haven't tried it yet, check it out!!!
www.bloggingforbooks.com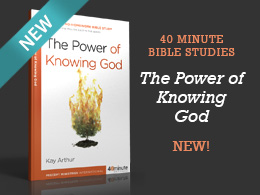 This was my first ever Kay Arthur study even though I have several studies with multiple authors including Kay this was a first for her alone. I love the format of the book and being able to do a 'weeks worth of study' in one session. The 40 minute outline was pretty true for me but I think this could depend on how grounded and educated you are in your faith and the study of the Word also. It was simple to understand and I love the breakdown she does of the scripture in individual sentences and verse.
It actually had me looking at scripture in a whole new light. Same meaning of course but it provoked me to put more thought into situations and events. I'm all about note taking and marking my bible for reference, but if you aren't comfortable with doing this the book has a sidebar with the specific scripture for the study so you use it like a workbook and can mark it rather than your bible.
I would recommend this book to friends and family. Men or women.
WaterBrook Multnomah Publishing Group provided this book to me for free in exchange for this honest review as part of their Blogging for Books program.